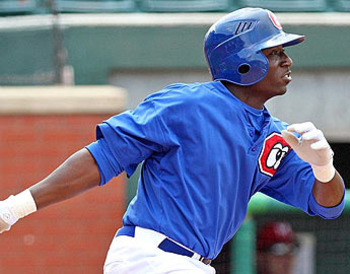 Trayvon Robinson OF (Los Angeles Dodgers)
Age: 23
Bats: Switch
Height: 5'10"
Weight: 175lbs
From: Crenshaw High School (10th round of 2005 draft)
Sometimes teams will draft high schoolers with a bevy of physical tools but little in the way of baseball skill. These are your typical boom or bust type picks, and lots of times these guys take more time to reach the majors than your polished college players (think about how polished Rick Porcello was coming out of high school vs how raw Phillipe Aumont still is). Trayvon Robinson is one of those raw, physically gifted athletes that needed time. Actually, Robinson didn't even start switch hitting until after he was drafted. Grab a bat and swing it from your weak side. Try not to look like an idiot. Think about how goofy you look and now imagine trying to hit pro pitching like that.
Robinson spent 2006-2008 mired in prospect limbo waiting to yield results. In 2009 he finally broke out hitting .306 with a .375 OBP and .500 Slg% at Hi A before moving to AA. He hit more HRs that year than he did in his previous four years combined. He also stole 43 bases. The Dodgers already have
Offense:
Robsinson hits well from both sides of the plate but you can tell in BP that he has more power from the right side. His swing mechanics are fine. What he sometimes has a problem with are his feet and what he does pre-swing. In the batting practice video below you can see he is well out in front of the first few pitches before he starts to adjust. His front foot is hanging in the air far too long and throwing off the timing of his swing. That's too many moving parts to control at once which makes it difficult to have a fundamentally sound swing. In the second video, you can see his front foot is down much earlier. This doesn't hinder his hip rotation, which is where a lot of swing power comes from. The Dodgers have worked with his pre-swing motions.
Robinson's walk rate has also vastly improved. Instead of 3 walks every 30 plate appearances, Robinson is walking 3 times every 20 Pas. That may not seem like much but over the course of a season it is the difference between a .350OBP and a .400 OBP, which he posted in 2010. He was a little too patient when I saw him in Arizona, striking out looking 3 times in the two games I saw him play.
Combine those on base skills with Robinson's elite speed (40 steals each of the last 3 years) and you've got a potential leadoff guy with some power.
Defense:
Robinson has the physical tools to play in CF; great speed and an average arm. However, he doesn't always take great routes to ball and the Dodgers already have a CF in place. He'd be above average in LF and I'd expect him to play their regularly for the Dodgers by late July.