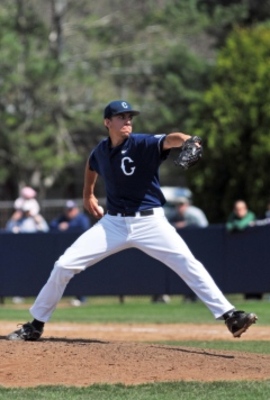 Team: UConn Huskies
Position: Right Handed Pitcher
Height: 6'4"
Weight: 203lbs
One of the more talked about arms in the upcoming MLB Draft, Matt Barnes has a chance to be one of the first 10 players selected in early June. Barnes is the first amateur player I've ever scouted and it is very different to watch college baseball than it is to watch pro, because the players mostly suck, even at the Division 1 level.
Fastball- Barnes throws hard. His 4-seam fastball sits between 92-94mph touching 96 here and there. He also has a 2-seamer that comes in between 89-91mph with noticeable arm-side run. He seemed to like to use that to back-door right handed hitters. He maintains this velocity throughout the game thanks to his lanky, 6'4" frame. While the raw velocity is there the command is not. Barnes was pitching from behind in the count almost incessantly on Friday, as he was unable to throw strike 1. He also refused to challenge hitters inside with the heater, a product of two variables. First, UConn coaches call the pitches, not the battery, so Barnes was at the mercy of the coaches. Second, college pitchers are averse to pitching inside because aluminum bats tend to do more damage with those than wood ones do.
Curveball- A dirty upper 70s curve with 11-7 break, it is Barnes' best pitch and he knows how to use it. Whether burying it in 2-strike counts, running it away from righties to gets swings and misses, back-dooring it to lefties or even throwing it early in counts to get ahead, Barnes seemed very comfortable using it.
Slider/Cutter- Yuck. In the low 80s, Barnes' Slitter (hmm…not sure if I like that) is not good. It was so bad that I had trouble recognizing what the hell it was. If you want to pitch at the top of a big league rotation, you need at least 3 viable pitches. The way Barnes develops this (or a changeup, as I'd prefer) is of paramount importance to his future.
Mechanics- Barnes does not repeat his delivery well. I noticed several times his front foot landing in different places in different directions. These inconsistencies are the likely cause of his control issues. Barnes is only 20 and it's possible he hasn't fully grown into his 6'4" frame to a point where he has acute control of his extremities. It's also possible his legs are just weak, tire easily and his delivery gets sloppy as a result. Video and reports on Barnes tend to note he misses up. More often for the start I saw, he was missing away. The arm action is not violent enough to be concerned about, nor is it effortless enough to fawn over.
Whatever team drafts Barnes will have some work to do, but his combination of velocity, pro-ready curveball, size to handle starter workload and bit of projectability won't let him drop past Milwaukee at #15 overall.