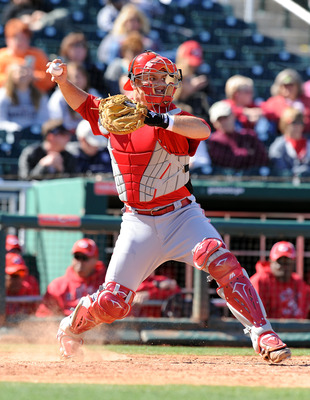 Devin Mesoraco
Age: 23
Bats: Right
Height- 6'1"
Weight- 220lbs
From: Punxsutawney High School, PA (drafted 15th overall in 2007)
Reds catching prospect Devin Mesoraco would likely already be in the majors if not for Ramon Hernandez and Ryan Hanigan. Both of those veterans are having fine years as they split catching duties down the middle for the Red Legs. Part of the reason the Reds brought back Hernandez on a 1-year deal (and maybe drafted Yasmani Grandal, another catcher, in the first round of the 2010 draft) was due to Mesoraco's slow progress in his first three professional seasons. From 2007 through 2009, Mesoraco only got on base 31% of the time and hit a total of 18 HRs. Most of these struggles can be attributed to recurring injuries to his hands and wrists. In 2010, Mesoraco was healthier and broke out, popping 26 HRs as he tore up Hi-A and AA, reaching AAA Louisville by the end of the summer. This season, his first full AAA season, Mesoraco continues to rake, boasting a .303/.378/.510 line. He's just about ready for the big leagues.
Offense: Mesoraco has terrific leverage in his swing and generates a lot of torque with his body by rotating his hips during his swing. This allows him to hit with above average power. When his hands and wrists are healthy, that could even improve. His bat is quick and he'll likely hit for a good average to go along with the power. He's about an average runner, unlike most catchers, so he may even add some value on the bases.
Defense: Mesoraco will likely stick as a catcher but he's not great defensively. He has a great arm but his transfer adds some unwanted ticks to his pop time. Watching Mesoraco in the Arizona Fall League last year led some to believe that he'd have to move out from behind the plate because he struggled to simply catch the ball, especially from pitchers with good velocity. Now we know that Mesoraco had suffered another finger injury that hindered his ability to handle pitches cleanly. I saw Mesorcao catch 3 games in a series this year and he was much better.
Overall, the Reds have an above average starting catcher on their hands with the potential to make an All Star team or two. I think Mesoraco will be given every opportunity to win the starting catcher's job in Spring Training of 2012 and contribute to a very good Reds team next year, as long as Dusty Baker doesn't get in his way.