Don't look now but the Washington Nationals are becoming relevant. After almost a full decade as the NL East doormat, the Nats finished just below .500 in 2011. I know they're just an average team (actually, a little bit below average if you look at Pythagorean W-L) but after years of enduring the likes of Garrett Mock and Jason Bergmann, Nats fans have to be pleased with their team's ascension from "punchline" to "competitive". The homegrown arms that will make up a large portion of Washington's maturing rotation have the ability to do so now that expensive inning-eaters Livan Hernandez and Jason Marquis are leaving via free agency.
John Lannan (LHP)
2011 Salary: $2.75 million
2012 Salary: $4-5 million through arbitration
2011 Stats: 184 innings over 33 starts; 5 strikeouts per 9IP; 3.7 walks per 9 innings with a 3.70 ERA and a 4.28 FIP. In total, worth 1.3 Wins Above Replacement.
Lannan is a typical backend starter with a below average fastball and a slew of average secondary pitches. Entering his second year of arbitration, his salary is creeping ever closer to his marginal revenue product. He's a candidate to be traded, especially if the organization is confident in the readiness of some f their pitching prospects.
Jordan Zimmerman (RHP)
2011 Salary: $415K
2012 Salary: $1.5-2 million through arbitration
2011 Stats: 161 innings over 26 starts; 7 strikeouts per 9Ip; 1.7 walks per 9IP; 3.18 ERA; 3.16 FIP; 3.4 WAR
Zimmermann qualified for Super Two status, so he gets an arbitration raise a year early. He was capped at 160 innings last year after coming off of Tommy John Surgery. Zimmermann sports comfortably above average fastball in the 92-94 range that flashes plus and a hard, mid-80s slider that is a true swing and miss pitch. Together, those two pitches represent about 85% of the pitches Zimmermann threw in 2011. He's also got a decent curveball and changeup that's not very good. Curiously, Zimmermann didn't have the extreme splits you'd expect from someone with that lousy a changeup. As he learns how to finagle outs against left-handed hitters (working in backdoor curveballs for strikes early in counts, burying backfoot sliders, stuff like that) he can survive without the change and be a true #2 starter.
Ross Detwiler (LHP)
2011 Salary: $300-400K
2012 Salary: $400K
2011 Stats: Only 66 innings in 10 starts and 5 relief appearances; 5.6 strikeouts per 9IP; 2.73 walks per 9IP; a .272 BA against on balls in play; 3.00 ERA; 4.21 FIP
It's difficult to make any judgments about Detwiler's numbers from last year. The sample is frighteningly small and a third of his innings came in September against diluted competition. He's likely primed for some regression. It's your standard fastball, changeup, curveball repertoire, with the latter of those being his weakest offering. It lacks depth. He saw an uptick in his velocity last year, even after he moved from the bullpen to the rotation. They should keep him in the rotation for now but if some current farmhands should arise as better options down the road it'd be cool to see if Detwiler could step into the bullpen and squeeze some more velo out of the fastball. A 6'5" lefty with a 95mph fastball and above average changeup coming out of the bullpen? Sign me up. For now, he's a back end guy on the cheap.
Chien Ming Wang (RHP)
2011 Salary: $1 million
2012 Salary: $4 million
2011 Stats: 66 innings in 11 starts; a paltry 3.6 strikeouts per 9IP; 2 walks per 9IP; 4.04 ERA; 4.57 FIP
I'm not sure what Wang did last season to deserve a $3 million raise. He's not going to pitch with above average velocity on the sinker anymore. He was in the mid 80s with it as he was rehabbing in the minors and it climbed to the 88-91mph range once he arrived in D.C. The Nats scrapped Wang's splitter and have him working with a curveball as well as a change and slider. None of his secondary stuff is noteworthy. Now, a veteran innings eater is a nice thing to have while you wait for some homegrown talent to mature in the minors, but Wang might not even be that. His delivery puts a ton of stress on the shoulder and in my opinion Wang is an injury waiting to happen. The best case scenario for Washington is that Wang puts together a good first month or two, one of their prospects forces his way into the majors and thy trade Wang to a naïve contender.
Stephen Strasburg
2011 Salary: $4,375,000
2012 Salary: $3 million
2011 Stats: 24 innings in 5 starts; 1.50 ERA; 1.28 FIP; 1.1 WAR
You may have heard of this guy. I didn't list the full gamut of Strasburg's stat line since it seems frivolous to try to draw conclusions about his first 25 major league innings coming off Tommy John. He sports three plus pitches. The command might take a little while to come back (it usually does post-surgery) so if he starts the year with an abnormally high walk rate, don't be alarmed. If you extrapolate what he did in just 25 innings out to the 160 inning limit he'll be on next year, you've got a nearly 7 WAR player. That'd be enough for Cy Young consideration. Your mom will know who he is by July.
Other candidates
The Nationals are supposedly kicking the tires on Roy Oswalt. That doesn't really make a ton of sense to me unless they think Oswalt will still be a viable contributor in 2013 or 2014, which is when I expect the Nationals to really start competing. Oswalt's stature prevents him from pitching with natural downhill plane, which would be fine if he still had plus velocity to blow past hitters. He doesn't have that anymore. Look for him near the top of your HRs allowed leaderboard next October if his back doesn't get to him first.
Internally, the Nats have some other options. I'll get into most of them in the prospects section later this month. Tom Gorzelanny will either be traded or non-tendered. Yunesky Maya and Tom Milone are up and down guys at best. Brad Peacock tore up the Eastern League in 2011 and has a great arm, but I think he belongs in the bullpen.
Want to guess how many innings the Nationals bullpen threw in 2011? Five hundred and twenty. That's the equivalent of nearly fifty eight total games, about a third of the entire season. Only three, the Braves, Orioles and Pirates, had their relievers throw more innings than the Nats did this past year. The unit as a whole was above average, ranking in the top ten in Wins Above Replacement, FIP, and ERA. It's a 'pen that lacks a viable lefty for the time being so look for Mike Rizzo to rectify that over the winter. Let's have a look at our cast.
Tyler Clippard (RHP)
2011 Salary- $443K
2012 Salary- $1.5-2 million through Super 2 Arbitration
2011 stats: 88 innings, 10 strikeouts per nine innings, 1.83 ERA, 3.17
Clippard is the closest thing the Nationals have to a good lefty in the bullpen thanks to his plus changeup. Hi strikeout to walk ratio was almost three times better against lefties than it was against righties in 2011. His fastball, slider and curveball are all average or below. He's one heck of a relief pitcher, one of the few that performs at an elite level without a sexy, upper 90s heater. He's set to make around $2 million in arbitration next year, a number that should probably be higher but, unfortunately for Clippard, Saves play a big role in reliever arbitration. To say Clippard's workload last season was heavy would be a freakish understatement. He threw eighty eight innings, third in the league among relievers. He'll endure a bit of a regression next year (his .197 BABIP from 2011 is unsustainable) and while most of it will just be regression to the mean, a tired arm will likely contribute a tad.
Drew Storen (RHP)
2011 Salary- $418K
2012 Salary- About the same
2011 Stats: 75 innings, 8.8 strikeouts per nine, 2.75 ERA, 3.32 FIP
Storen was about as safe a commodity as you'll get in the Amateur Draft. The Stanford alum was always going to be a reliever, was going to move quickly through the minors and was going to make hitters look like morons with that mid-80s slide piece of his. He's done all that and the Nats have your classic, power fastball/slider arm at the backend of their bullpen on the cheap for the next five years. Look for a sub-three ERA next year.
Henry Rodriguez (RHP)
2011 Salary- $415K
2012 Salary- About the same
Stats: 65 innings, 9 strikeouts per nine innings, 6 walks per nine innings, 3.64 ERA, 3.41 FIP
Rodriguez has two pitching plans. One for righties where he tosses his 97-99mph fastball over the outer half of the plate and then wastes his average slider down and away, and one for lefties where he is exclusively fastball/changeup away. You'd like to see a guy that throws 100mph challenge hitters inside every now and then. Rodriguez will be 25 next season and his feel for pitching and control are what will dictate whether he remains a middle reliever or becomes a high-leverage arm. I'd like to think he figures out one of those two sometime in 2012.
Sean Burnett (LHP)
2011 Salary: $1.75 million
2012 Salary: $2 million
2011 Stats: 56 innings in 69 appearances; 5 strikeouts per nine innings; 3.81 ERA; 4.51 FIP
Burnett really isn't good enough to be the primary lefty in a bullpen but he's really all Washington had in 2011. A lot of his value against lefties comes from his low three-quarters arm angle. The fastball, slurve, changeup repertoire allow him to pitch to righties when he needs to and not get destroyed. The Nats could probably squeeze more value out of him as a mop up long man. He's got some nice things going for him so he certainly belongs in the majors: three pitch mix, funky arm slot, used to start. But his stuff isn't good enough for high leverage situations. Why not have his primary role be as the guy who pitches multiple innings in blowouts? Makes more sense than having him pitch to Chase Utley and Ryan Howard in the 8th or 9th inning.
That leaves us with three spots to fill in the bullpen with guys that will either be added in free agency or come from within the organization. Yunesky Maya's contract may earn him a shot. The 30-year old, junkballing Cuban is owed $4 million through 2013. It's hard for a GM to swallow that sort of sunk cost without giving Maya every opportunity to give some kind of return on the investment. Doug Slaten and Tom Gorzelanny are potential pen arms, but they're also potential candidates to be non-tendered. Rizzo could always bring back Todd Coffey. Sure, there are some whippersnappers down on the farm that could grab a spot, but I'll save my thoughts on them for the team's prospect post next week.
One interesting guy to keep an eye on is Rick Ankiel. Yes, he was above replacement as an everyday center fielder last year, mostly thanks to his defense. But a .296 On Base Percentage and a .363 Slugging Percentage? That's rough. Why not stick him back on the mound, pear him down to fastball/slider, have him work from the first base side of the rubber with as low an arm angle as he's comfortable with and create a lefty specialist? He still has a grade 70 arm, put it to use.
As a team, the Nationals offense was deplorable in 2011. Their team On Base Percentage was the fifth lowest in baseball and their cumulative Weighted On Base Average was ninth worst. There's plenty of room to improve on that end. The good news is that organic improvement is likely coming since more than half of Washington's projected regulars are under thirty years old.
Catcher: Wilson Ramos
2011 Salary: $415k
2012 Salary: $418k
2011 Stats .267 Batting Avg; .334 On Base Pct; .445 Slugging Pct; .332 wOBA
Ramos was acquired straight up for Matt Capps a few years ago. Hats off to Mike Rizzo for that one. Ramos was the second best offensive player on the team last year and has a chance to make a few All Star squads in the near future. His defense is good enough to stick behind the plate which makes him much more valuable than he would be if his girth were to force him to first base. It will be interesting to see how pitchers make adjustments to Ramos since, it looks like he can be beaten by above average velocity. He'll almost certainly play more than the 113 games he did in 2011. I hope he's having a relaxing, uneventful offseason in his home country.
First Base: Adam LaRoche
2011 Salary: $7 million
2012 Salary: $8 million
2011 Stats: .172 Batting Avg; .288 OBP; .258 SLG
LaRoche only played in 43 games last season thanks to a shoulder injury that required season-ending labrum surgery. He's now 31 years old and while he still belongs on a major league roster, it's not beneficial for the Nats to keep him around much longer. 2012 is the final year of LaRoche's contract, making him a perfect candidate to be traded by next summer's deadline. That would free up an opportunity for Chris Marrero, a middling prospect, to play in the majors so the Nats can see what they have there. The best case scenario here is LaRoche comes out on fire in April and May, the Nats trade him for a young bullpen arm and reinvest the cash they save on LaRoche's salary into another part of the club.
Second Base: Danny Espinosa
2011 Salary: $415K
2012 Salary: $418K
2011 Stats: .236 Batting Avg; .323 OBP; .414 SLG; .325 wOBA
While Espinosa's on base skills leave plenty to be desired, he's a fine overall hitter. Nobody's going to complain about 21 homers from a good middle infielder. A switch hitter, Espinosa is better from right side, where he makes much harder contact. Look for managers to force him to hit left handed late in games next season. The only marginally controversial thing I have to say about Espinosa is that he belongs at shortstop. He's just a better fielder than Ian Desmond is. Espinosa's 3.5 Wins Above Replacement in 2011 was tops amongst Nationals regulars. Whispers about potential trades involving Espinosa have begun, though it's hard to tell if those rumors have merit.
Shortstop: Ian Desmond
2011 Salary: $441K
Ian Desmond just isn't good enough to start every day in the majors
2012 Salary: $450K
2011 Stats: .253 BA; .298 OBP; .358 SLG
Desmond belongs on the bench. His glove is not good enough to make up for the anemic offensive numbers he posted in 2011. Despite a sub-.300 On Base Percentage and below average defense at shortstop, Desmond was still above replacement level, which is an indictment on the state of shortstop play in baseball right now. He's best suited for a utility role. Hopefully, manager Davey Johnson will recognize this, move Espinosa over to short and give Steve Lombardozzi a shot at second base. I'm not a huge Lombardozzi fan, but he's better than Desmond.
Third Base: Ryan Zimmerman
2011 Salary: $9 million
2012 Salary: $12 million
2011 Stats: .289 AVG; .355 OBP; .443 SLG; .347 wOBA
Zimmerman, just 26 years old, is one of the best players in all of baseball when he's healthy but he had trouble staying on the field in 2011. Let's hope it's a fluky issue and not a harbinger of things to come for one of the best defensive third basemen I've ever seen. The Nationals will have a tough decision to make with Zimmerman when his contract is up after the 2013 season. Yes, he's the face of the franchise, but a combination of continued injuries and the presence of Anthony Rendon could make his departure easier to swallow. Let's hope Zim stays healthy and Rendon transitions to second base. In the meantime, Zimmerman is a sleeper candidate for NL MVP next year.
Left Field: Mike Morse
2011 Salary: $1 million
2012 Salary: $3.5-4 million through arbitration
2011 Stats: .303 BA; .360 OBP; .550 SLG; .387 wOBA
Morse was really good in 2011 and was really good in limited time in 2010. It's probably time to start believing in the guy, but I can't help but have reservations about his ability to sustain his performance. For now, let's just assume Morse is what his 2011 campaign says he is; A very good hitter who is terrible defensively. Someone of his size and agility is usually sequestered to first base, but that'd be a waste of Morse's above average arm. He'll probably play a ton of left field in 2012 with the possibility of him moving to first base if LaRoche is moved and Chris Marrero falters. Even if Morse's performance at the dish drops off a tad as opposing pitchers make adjustments, he's a bargain in his second year of arbitration. He'll hit free agency in 2014 when he'll be 33 years old, and won't be hard to part with.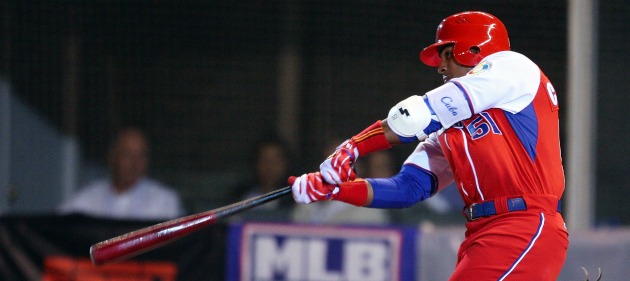 "The Talent and The Power"
Center Field: Yeonnis Cespedes
2012 Salary: TBD
The Nats have been shopping for a center fielder since last season when they were kicking the tires on BJ Upton and Denard Span. Rick Ankiel is a free agent and Bryce Harper is ready to come up just yet, so Washington will almost certainly venture outside of the organization to find someone to run down balls in center field. I had to stick Cespedes in this spot because he's just too much fun to discuss. The 26 year old Cuban defector has spent the past several years ripping through baseball in his own country and is about to be declared a free agent after establishing residency in the Dominican. He has above average raw power, plus speed, can play a legitimate center field for now and has quite possibly the greatest scouting video in the history of human existence. If you haven't seen it or read Baseball Prospectus writer, Kevin Goldstein's write up on it, you can find it here:
http://www.baseballprospectus.com/article.php?articleid=15469
While it is marginally speculative for me to slot "The Talent and The Power" as Washington's centerfielder for 2012, know that the Nationals have shown explicit interest in him, have a need at the position and have a big chunk of cash burning a hole in their pocket. His ceiling as a major league player is that of an above average regular.
Right Field: Jayson Werth
2011 Salary: $10 million
2012 Salary: $13 million
2011 Stats: .232 BA; .330 OBP; .389 SLG; .323 wOBA
The seven year contract Werth signed last offseason was a disaster from the moment the ink on his signature dried, but nobody thought he'd be as bad as he was last year. He'll likely bounce back a bit in 2012 but I doubt he approaches the 5 WAR he posted during his three year peak in Philly. Whether he was playing through injury, is having a more dramatic decline than normal or suffered from some freak mechanical flaw in his swing, Werth needs to fix things or else he'll become one of the more infamous athletes in the history of Washington D.C. Only six more years to go, Nats fans!
Bench Fodder:
Steve Lombardozzi is a nice little utility player who might get a shot to play regularly thanks to Ian Desmond's ineptitude. Chris Marrero is an interesting young hitter who has gotten a lot better defensively in the past year. He'll be a nice bench bat at the very least, maybe an average regular at first base or in left field one day. Roger Bernadina is a fifth outfielder who played way too much in 2011. Look for much of Washington's bench to be made up of 1-year veteran deals.
The most sustainable way to win in Major League Baseball is to do so with a steady stream of homegrown players. Teams draft and sign talented amateur players, develop them until they're ready to contribute at the major league level and then reap the benefits while those players remain employed for a fraction of what they're actually worth. This starts a financial cycle in which the players (mostly by winning) collectively generate revenue that exceeds the payroll. The team makes a ton of money, ideally reinvests it in the roster and voila, a juggernaut is born. It's clear this is where the Nationals are heading. After an expensive, aggressive 2011 draft, Washington has a farm system filled to the brim with talent. Below, I do my best to profile the more prominent members of that system -good, bad, overrated, sleepers, everything- in no particular order.
Matt Purke (LHP)- Purke was one of the more talked about amateur prospects early in his career at TCU. Arm troubles caused a dip in his velocity and a subsequent drop in the 2011 draft. That Nats took a flier on him and sent him to the Arizona Fall League as he begins to recapture the form from his freshman year as a Horned Frog. The results have not been encouraging. When I saw him in Surpise for his first start, Purke was leaving lots of pitches up in the zone (when he could find the zone at all) that were spanked into gaps, his fastball velocity was still in recovery and he had no feel for his secondary pitches. His release point was the most inconsistent I've ever seen. It doesn't make any sense to draw finite conclusions about Purke's long term viability until at least next spring when he's had a full winter to shake off what is clearly a mountain of rust. After the dumpster fire I saw this fall, I'm not exactly optimistic.
Sammy Solis (LHP) - A second round selection in 2010 out of The University of San Diego, Solis was another AFL prospect I had the pleasure of scouting. The towering lefty boasts a three pitch mix consisting of a mid-70s knuckle curve which he's still trying to master, a low 90s fastball that was showing more velo in the AFL than is typical for Solis, and a true plus changeup with great fade and arm side action. His lower half is stiff and lazy during his delivery but there's nothing about the arm action that screams, "I'm going to get hurt." One cool things about Solis is, despite his size, his pop times from the stretch are above average, so he won't be abused by the running game like so many guys of similar stature have before him. The prognosis on Solis is one of a mid-rotation starter, but if the uptick in velocity he showed in the Fall League holds, that ceiling would need to be reconsidered. Since Fall Leaguers only throw around three innings per start, they can let it rip without having to worry about maintaining their stamina for 6+ innings. So that might be why his velocity has spiked.
Pat Lehman (RHP) – a 13th round selection out of George Washington University in the 2009 draft, Lehman has a shot to be a decent bullpen arm. The 25 year old, fast working righty has some above average secondary stuff that'll play in the majors. While Lehman's fastball is a little fringy, his changeup is above average and his command of a two-plane slider makes up for the fact that it's a little short. He reached Double-A Harrisburg in 2011, so he's a little behind schedule as far development goes.
Rafael Martin (RHP) – Martin was signed out of Mexico as a 25 year old in 2010. He's now 27 and, after a strong performance in Double-A, he needs to be given a shot in the majors at some point this season to exactly what the Nats have here. Martin works with a sinking fastball that plays above average thanks to its sink, a hard, upper-80s slider and a fringy changeup. He might be left in Syracuse as Spring Training breaks, but he'll likely be one of the first arms up should someone get hurt or traded.
Steve Lombardozzi (INF) – Lombardozzi is nearly Major League ready and will have some value simply because he can play shortstop in a pinch. He'd be a below average starter, even as a second baseman, but is a better hitter than Ian Desmond. In my opinion it'd be a net positive to move Danny Espinosa to short and start Lombardozzi at second base.
Bryce Harper (OF) – There are only two players in all of baseball that I'm comfortable handing a grade of 80 for raw power. Harper is one of them. I can't decide what I'm most impressed with, Harper's raw abilities or how advanced he is for a hitter his age. Having just turned nineteen years old a month or so ago, Harper's already made it to Double-A, and had two stints in the Arizona Fall League. The one thing to look for Harper to tinker with is the effort in his swing. He goes full bore with each hack which may lead to more swing and miss than you'd like. In a related matter, Harper's two strike approach is non-existent. These are things that should come as he continues to mature at the plate. Defensively, Harper has a plus arm that plays as average due to accuracy issues. I've had times from home to first for him in the 4.2s, which is average for a left-handed hitter and he might, MIGHT, be worth a try in centerfield for the short term. I don't think he'd stick there for the long haul but it would do wonders for his value until he filled out, got a bit slower, and forced the Nats to move him to an outfield corner. He might have more than one MVP award on his mantle by the end of his career.
Derek Norris (C) – Whenever you're talking about a catching prospect, the first question you need to ask is, "Can he stick behind the plate?" Thanks to a terrific arm and acceptable receiving skills, Norris likely can. He still needs work on game calling and blocking balls in the dirt, but the 21 year old still has time to develop the first of those two skills. His thick, slow frame (that's putting it nicely) precludes him from vacuuming up pitches in the dirt. Offensively, Morris is a bit on an enigma. In 2011 he hit just .210 but had a .367 OBP and slugged .446. He's had similar stat lines during much of his career, prompting more than one Mickey Tettleton comparison. I think Norris will push Wilson Ramos for the starting catcher spot in 2013 and may be a trade piece in the interim. Be aware that I like Norris more than most, mostly because I'm more confident in his viability as a long term catcher. But, if Norris gets noticeably bigger and has to move out from behind the plate, then we have a serious problem.
Chris Marrero (1B) – After a trial run in the outfield, the Nationals have moved Marrero back to first base. He's improved there and is now above average defensively for a first baseman. He might hit enough to play every day but I don't feel good about it. There's lots of noise in a swing that is long to begin with and he looks to me like a guy who might strike out in 25% of his plate appearances. For me, he's a decent bench bat.
Anthony Rendon
Anthony Rendon (3B/2B) – An advanced approach, terrific bat speed and a great swing path make Rendon a very advanced prospect that is probably going to push his way to the majors by late 2012. He battled injuries that kept him relegated to DH duties during his 2011 season at Rice, but when he's healthy enough to play third base, he'll be plus there with a well above average arm and quick reactions. The fact that Rendon's bat is likely to move him through the minors quickly means he may initially be tried at second base so both he and Ryan Zimmerman can be worked into the same lineup. We'll have to see if he has the range to play up the middle and if his small, potentially injury prone frame can withstand the beating middle infielders routinely take.
Brian Goodwin (OF) – It's not often potential five-tool players fall toward the sandwich round but Goodwin did in the 2011 draft. Goodwin can really fly and has the physical ability to play centerfield, though he needs to get better at reading the ball off the bat and he often takes inefficient, circuitous routes. Offensively, Goodwin has a good eye, fine bat speed and in a perfect world could fill out and hit for above average power. He gets his weight out on his front foot too often during his swing so look for that mechanical correction this spring.
AJ Cole (RHP) – Cole is a long ways away from Washington but the potential is there for a front line starter. His 6'5", 180lb frame gives him plenty of room to fill out, add stamina and maybe velocity. Adding velocity to a fastball that already regularly touches the mid-90s sounds like fun. He has a nice feel for a changeup but really needs to find a breaking ball. He's a very talented project that could reach Double-A in 2012.
Brad Peacock (RHP) – Peacock opened eyes in 2011 by torching the Eastern League to the tune of a 2.01 ERA and 12 K's/9 in about 100 innings. There's dissenting opinion about whether or not he can stick in a rotation, not because of stuff but because of issues with Peacock's high effort delivery and smallish frame. Peacock's three pitch mix includes an above average fastball, average changeup and curveball. I'm more comfortable with him pitching in relief but I understand that he'd be three times as valuable as a starter. He should be given a chance to start and left there until he proves he shouldn't be. It's not like Washington can't afford to take a chance and make a mistake here, they're not going to contend in 2012 anyway. Give Peacock the chance to start, if he's bad or gets hurt then move him to the bullpen. He'll have plenty of time to recover from any setbacks by the time Washington contends.
Alex Meyer (RHP) – Another guy who may not stick in a rotation, Meyer is so freaking big (6'9") that he has trouble repeating his arm slot, leading to lapses in control. He has two plus pitches, a mid-90s running fastball that touches 99mph and a vicious slider in the 82-86mph range. Despite that stuff, Meyer didn't perform well in college. Meyer is the epitome of a boom or bust prospect. He has two things to work on. For one, he needs to develop a way to get lefties out. Whether that's developing a changeup/splitter or learning to work his slider in the back door and back foot to lefties doesn't matter, just figure it out. Second, the control and command need work. If Meyer does both of those things, he's a number one starter. If he does one, he's a stud reliever. If he does neither, he'll be updating his resume by 2015.